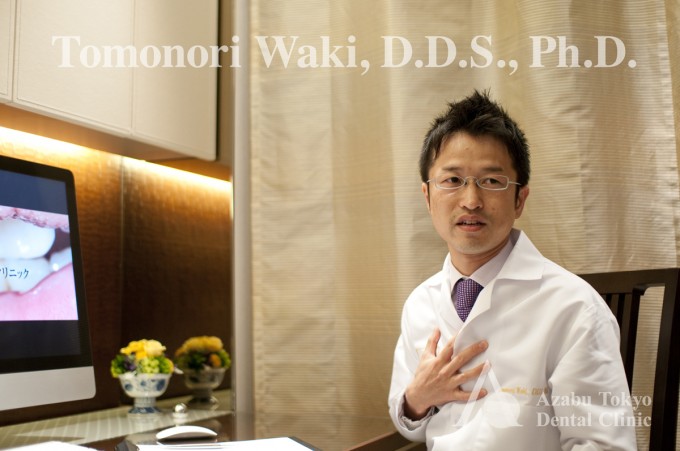 Hello I am Dr.Waki director of Azabu Tokyo Dental Clinic.
My philosophy regarding dental esthetics includes more than just whitening teeth. I believe it also means improving the function of teeth so that you can enjoy a more natural, beautiful mouth that also allows you to eat and drink without pain or discomfort.
It is very difficult to prevent gum recession and discoloration just by covering your teeth with white crowns.
My treatments help patients recover healthy gums and restores their beautiful smiles. Furthermore, my treatments help your overall function by balancing all of your teeth so that you can enjoy any kind of meal. For patients who have speech pronunciation problems stemming from a poor oral condition, my treatments will restore your ability to pronounce clearly.
My ultimate goal is to help patients maintain a good oral condition for a long time.
It is generally said that oral appearance and function decline with age. However, it is very much possible to restore your oral condition. You can get your natural mouth back again with appropriate treatments.
You may not be satisfied with your mouth even if you have received dental treatments before. I want you to know that you can definitely get your nice natural smile back.
Please contact us if you are worried about or feel distressed with your mouth.
I, a certified specialist of the Japan Academy of Esthetic Dentistry, provide patients with worldwide, well-grounded, high quality treatments.
Tomonori Waki, DDS, PhD.(院長 脇 智典)
インプラント歯科・予防歯科・審美歯科の<麻布東京デンタルクリニック>
Director, Azabu Tokyo Dental Clinic
Clinical Lecturer, Osaka University, Japan
Associate Fellow, American Academy of Implant Dentistry
Certificate, Implant Dentistry, Loma Linda University, USA
Diplomate, Japan Academy of Esthetic Dentistry, Japan
www.azabutokyodc.jp/en/
Everything we do is so our patients can enjoy a happy, healthy life.
For appointment & inquiry 
info@azabutokyodc.jp

Contact
Please feel free to contact us,
8:30AM〜5:30 PM
03-5422-7518