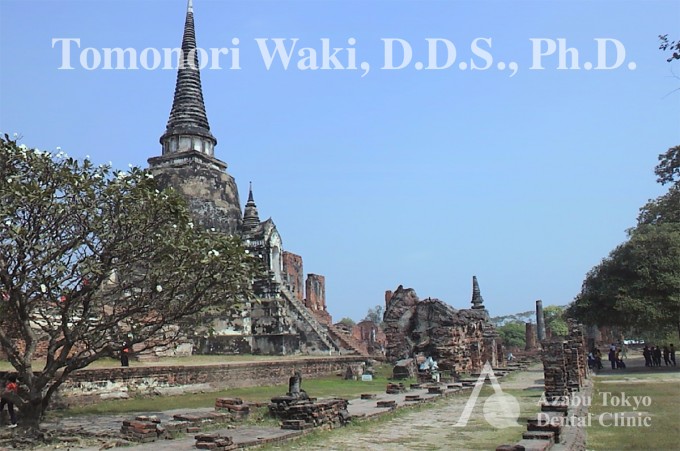 Hello,
This is Dr. Waki, the director of the Azabu Tokyo Dental Clinic.
"Smile Back to Thailand" is a charity that helps flood victims in Thailand.
It is organized by Mr. Ryu Murao, an author of a variety of books on business. Mr. Murao has said, "People all over the world have been supporting and helping Japan after the earthquake in eastern Japan. So it is very important to repay them for their kindness as much as possible."
At Azabu Tokyo Dental Clinic we took part in the charity of "Smile Back to Thailand" in January and February.
The Azabu Tokyo Dental Clinic donated 10% of our proceeds from Dental Check-ups, Teeth Cleanings, and Teeth Whitening to the Royal Thai Embassy through Mr. Murao in February.
We will contribute to society and the global community as much as we possibly can!
Tomonori Waki, DDS, PhD.
Director, Azabu Tokyo Dental Clinic
Clinical Lecturer, Osaka University, Japan
Associate Fellow, American Academy of Implant Dentistry
Certificate, Implant Dentistry, Loma Linda University, USA
Diplomate, Japan Academy of Esthetic Dentistry, Japan
www.azabutokyodc.jp/en/
,
www.facebook.com/azabutokyodc.jp
Six minutes' walk from Hiroo station
English Speaking Dentist, Dental Check Up, Teeth Cleaning, Dental Care
Everything we do is so our patients can enjoy a happy, healthy life.
For appointment & inquiry 
info@azabutokyodc.jp

Contact
Please feel free to contact us,
8:30AM〜5:30 PM
03-5422-7518