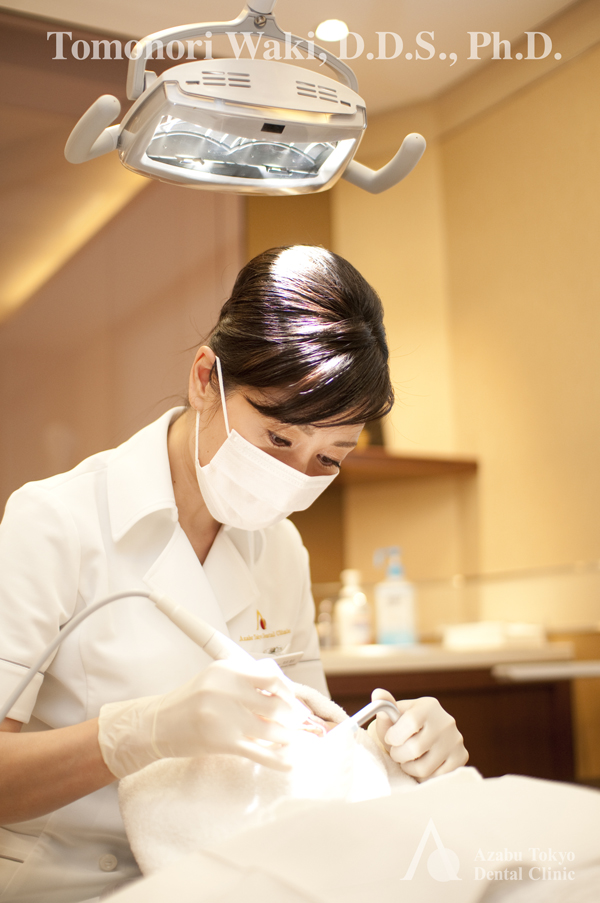 Good morning, I am Matsui at Azabu Tokyo Dental Clinic.
How do you choose the best lipstick color?
There is a variety of lipsticks in many shops, so it can be hard to pick the best color. I actually used to have trouble picking the best color for myself, so today I would like to talk about how to pick an appropriate lipstick color for teeth that have been treated with teeth whitening.
At one time I left my job as a dental hygienist and started working at a cosmetic company. My first job in cosmetics was picking the best lipstick color for customers.
Teeth and lips are closely related to each other, and deciding on a good color can be difficult. Through my experience, I've realized that most important is a balance of color.
I used to use dark red or pink lipsticks to make my face look healthy, but one time, after having my teeth whitened, I actually tried a beige colored lipstick. The balance changed completely, and now my favorite lipstick color is absolutely beige.
Whitening teeth makes the color of lips come out very well and also makes the mouth very elegant and natural.
If you have already had your teeth whitened, I would recommend that you try a beige color lipstick. You may find a new expression for yourself.
If you have your teeth whitened in the future, please try other colors of the make-up!
Have a nice day!
Hazuki Matsui, Dental Hygienist
Tooth Whitening Coordinator, Japan Academy of Esthetic Dentistry
Member, Japan Academy of Esthetic Dentistry
Azabu Tokyo Dental Clinic
Preventive, Implant, and Esthetic Dentistry
Six minutes' walk from Hiroo station
www.azabutokyodc.jp/en/
,
www.facebook.com/azabutokyodc.jp
We offer our services in English.
English Speaking Dentist, Dental Check Up, Teeth Cleaning, Dental Care
Everything we do is so our patients can enjoy a happy, healthy life.
For appointment & inquiry 
info@azabutokyodc.jp

Contact
Please feel free to contact us,
8:30AM〜5:30 PM
03-5422-7518