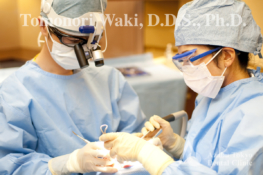 Everything we do is for safe and secure dental implant surgery.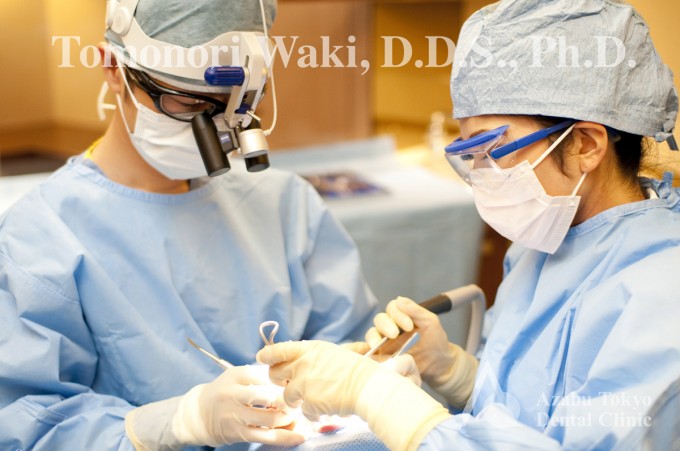 Hello, I am Dr.Waki director of Azabu Tokyo Dental Clinic.
People sometimes say "I am afraid of surgery" or "Is dental implant surgery really safe?"
To allay these fears, we at Azabu Tokyo Dental Clinic think a great deal about the following three points, all of which ensure safe and secure dental implant surgery:
First, our clinic provides reliable diagnosis and perfect preparation. To provide safe dental implant treatment, we fully prepare for surgery with a thorough clinical examination, consultation, and treatment.
Dr. Joseph Kan, who is my mentor and a professor of implant dentistry program at Loma Linda University School of Dentistry in the United States, said, "Good surgeons always simulate the surgery at least 10 times before operating." Dr. Kan is one of the few clinicians worldwide in both the surgical and restorative discipline of implant dentistry. Dr. Kan simulates each surgery 10 times, so I have trained myself to simulate each surgery 15 times before operating.
Second, our clinic is particular about strict attention to sanitation and clean equipment.
Our clinic utilizes the world's highest level of anti-bacterial and anti-viral facilities. On top of sterilizing all of our equipment, we also take pains to sterilize even fresh gauze.
Our operating room has the most advanced air-filtration equipment installed, creating a sterile environment for safe operation.
Third, all members of our staff prepare and focus their concentration on one dental implant surgery at a time. Our clinic is privately reserved when a patient has dental implant surgery. All members concentrating on one patient's surgery allows us to provide you with the highest level of care. We provide safe and secure dental implant surgery because we are the specialists of implant dentistry.
Tomonori Waki, DDS, PhD.(院長 脇 智典)
インプラント歯科・予防歯科・審美歯科の<麻布東京デンタルクリニック>
Director, Azabu Tokyo Dental Clinic
Clinical Lecturer, Osaka University, Japan
Associate Fellow, American Academy of Implant Dentistry
Certificate, Implant Dentistry, Loma Linda University, USA
Diplomate, Japan Academy of Esthetic Dentistry, Japan
www.azabutokyodc.jp/en/
Everything we do is so our patients can enjoy a happy, healthy life.
For appointment & inquiry 
info@azabutokyodc.jp

Contact
Please feel free to contact us,
8:30AM〜5:30 PM
03-5422-7518