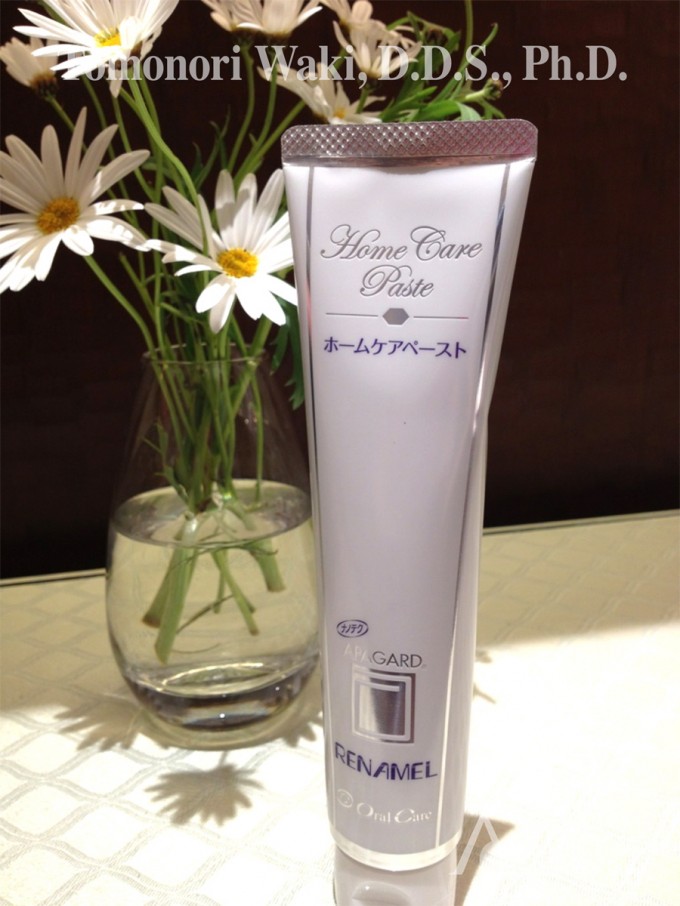 Good morning, this is Matsui, the dental hygienist at Azabu Tokyo Dental Clinic.
Do you like drinking tea, coffee or red wine? Do you want to know how to prevent stained teeth?
Today I would like to introduce the best toothpaste that prevents discoloration of teeth.
The enamel, which is the hard outer coating of your teeth, wears thin.
Bearing down too hard when you brush everyday can create grooves in the tooth surface.  Food or beverage in small grooves can taint your teeth.
"Apagard Renamel" replaces minerals lost from the enamel surface caused by brushing and orthodontic work.
"Apagard Renamel" is sold only at clinics. "Apagard Renamel" contains twice as much hydroxyapatite as the "Apagard" sold at stores. This product supplies minerals to restore translucency to the enamel, gradually remineralizing white spots, protecting against early recurrence of plaque and stains, and creating a smooth, fresh feeling in the mouth.
This product both keeps your teeth white and aids in general protection of your teeth.
Have a nice day!
Hazuki Matsui, Dental Hygienist
Tooth Whitening Coordinator, Japan Academy of Esthetic Dentistry
Member, Japan Academy of Esthetic Dentistry
Azabu Tokyo Dental Clinic
Preventive, Implant and Prosthetic (Treatment for occlusion) Dentistry
Six minutes' walk from Hiroo station
www.azabutokyodc.jp/en/
,
www.facebook.com/azabutokyodc.jp
We offer our services in English.
English Speaking Dentist, Dental Check Up, Teeth Cleaning, Dental Care
Everything we do is so our patients can enjoy a happy, healthy life.
For appointment & inquiry 
info@azabutokyodc.jp

Contact
Please feel free to contact us,
8:30AM〜5:30 PM
03-5422-7518