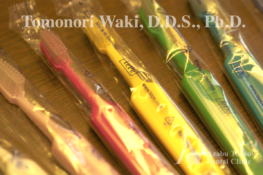 The toothbrush we offer at Azabu Tokyo Dental Clinic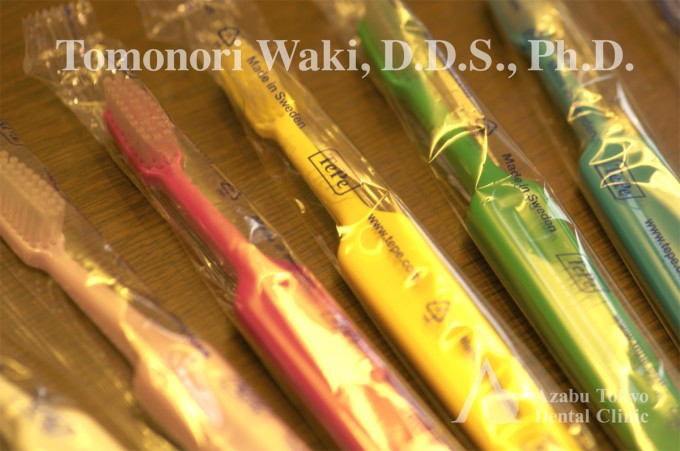 Good morning! I am Fukuda, the dental hygienist at Azabu Tokyo Dental Clinic.
Today I would like to introduce the toothbrush we offer at Azabu Tokyo Dental Clinic and illustrate their points to you.
Tepe: Hardness of the brush "Soft"
Tepe is the leading Swedish manufacturer of oral health care products.
Tepe was founded in 1965 when wood-carver Henning Eklund developed a new kind of dental cooperation with professors of the school of dentistry.
Although it looks a little big, it moves gently and smoothly in the mouth.
This toothbrush has an originally designed grip, which is very comfortable and stable.
The advantage is that the Tepe is a very high quality toothbrush.
Tips of this brush are round in shape, touching your teeth and gums gently. The Tepe toothbrush also comes in a variety of colors to choose from.
It is very important for you to use a toothbrush to gently clean dental plaque from the surface of your teeth. However, I think it is not easy to find your best toothbrush.
Dr. Waki has a philosophy of providing the best treatment and preventive care for each patient, so our hygienists also provide the best and most appropriate oral care products for each patient.
All the members at Azabu Tokyo Dental Clinic are studying all the time so we can provide advanced treatments and products to our patients.
Aiko Fukuda, Dental Hygienist
Tooth Whitening Coordinator, Japan Academy of Esthetic Dentistry
Member, Japan Society of Periodontology
Azabu Tokyo Dental Clinic
Preventive, Implant, and Esthetic Dentistry
Six minutes' walk from Hiroo station
www.azabutokyodc.jp/en/
,
www.facebook.com/azabutokyodc.jp
We offer our services in English.
English Speaking Dentist, Dental Check Up, Teeth Cleaning, Dental Care
Everything we do is so our patients can enjoy a happy, healthy life.
For appointment & inquiry 
info@azabutokyodc.jp

Contact
Please feel free to contact us,
8:30AM〜5:30 PM
03-5422-7518