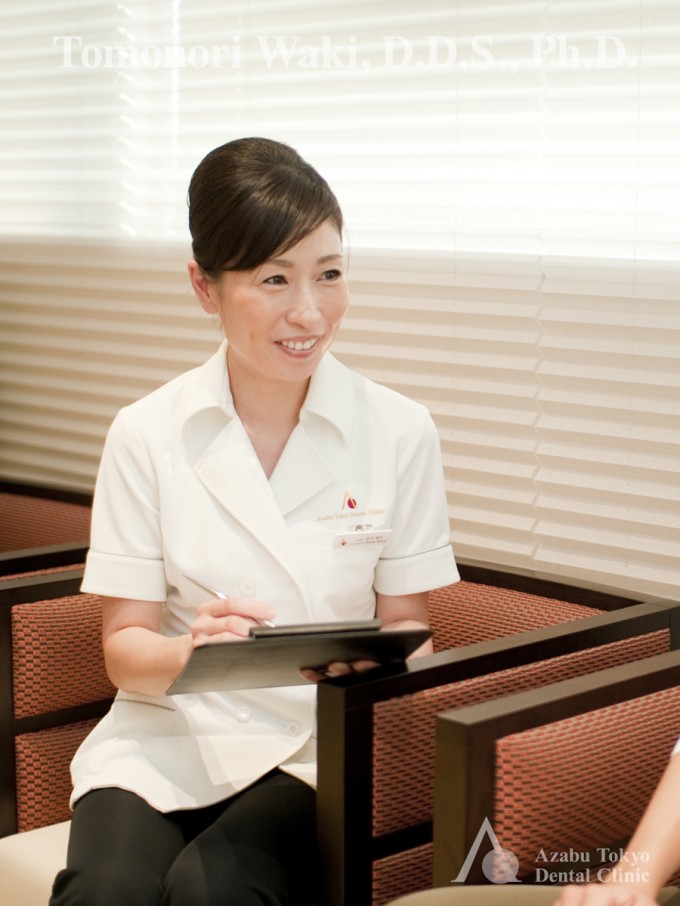 Hello, I am the dental hygienist Matsui at Azabu Tokyo Dental Clinic.
I would like to talk about the prevention of dry and chapped lips.
Lips are very thin horny layer and lack the function of keeping enough natural moisturizing ingredients. Loss of natural oils happen due to exposure to cold, dry winds.
What is the cause?
• Licking lips
• Dry environment
• Sunburn
• Lack of vitamin B2
• Smoking
Lips have a rapid metabolism compared with normal skin, so we can keep healthy, hydrated lips with daily care.
Preventive care
• Use lipsticks containing Jojoba oil, vitamins or medical lipsticks
• Have food that contains vitamin B2 such as eggs, Natto, spinach or liver.
Beauty specialists recommend putting honey or Vaseline on lips, then covering them with plastic wrap for 10 minutes. This is quite effective.
These days there are many kinds of lip products available in shops.
We support our patients with total oral care.
Hazuki Matsui, Dental Hygienist
Tooth Whitening Coordinator, Japan Academy of Esthetic Dentistry
Member, Japan Academy of Esthetic Dentistry
Azabu Tokyo Dental Clinic
Preventive, Implant, and Esthetic Dentistry
Six minutes' walk from Hiroo station
www.azabutokyodc.jp/en/, www.facebook.com/azabutokyodc.jp
We offer our services in English.
English Speaking Dentist, Dental Check Up, Teeth Cleaning, Dental Care
Everything we do is so our patients can enjoy a happy, healthy life.
For appointment & inquiry info@azabutokyodc.jp

Contact
Please feel free to contact us,
8:30AM〜5:30 PM
03-5422-7518